CARE relies on partnerships with leading global organizations to maximize the effectiveness of our poverty-fighting work.
CARE's partnership with Cargill is a powerful example of what can be achieved when a global humanitarian organization and a leading global business unite against poverty. Partners on a wide range of programs for two decades, we are currently implementing a five-year, $10 million initiative that is on pace to help 100,000 people in eight countries lift themselves out of poverty by the end of 2013.
In Central America, Cargill works with CARE to improve education and nutrition for 28,000 children in Guatemala, Honduras and Nicaragua. The program aims to empower children and parents by improving the quality of education in schools, ensuring schoolchildren are receiving proper nutrition and advocating for the rights of children.
"Watching students and parents grow more empowered over time is really incredible," says Michelle Grogg, Cargill's senior director of corporate contributions and partnerships. She says students and parents who used to be afraid to speak up now regularly reach out to government officials to advocate for better schools.
In Kutch, India, Cargill works with CARE to invest in self-help groups for women. In communities where local customs function to isolate women from work and social opportunities, these groups have become a platform for women's social and economic empowerment. Members use the groups to save and loan money to one another. The resulting economic activity has helped 6,700 rural families earn more money and improve their food security.
Like CARE, Cargill understands that the long-term solution to hunger is not the delivery of food. It's giving people the tools to help themselves.
"Visiting Kutch and seeing the outcome of the program there is so inspiring," says Grogg. "Getting access to financing opens opportunities for women to own small businesses. It's changing lives."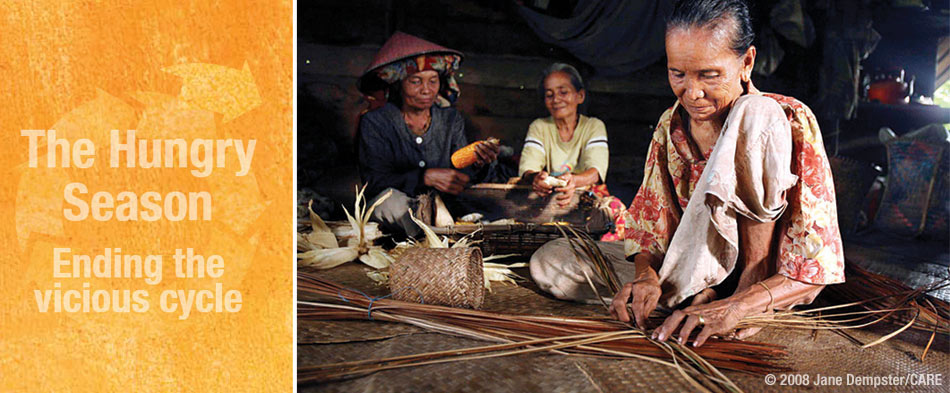 Procter & Gamble (P&G) partners with CARE on several important initiatives. CARE and P&G have reached 18,340 children and 100 schools with safe water in Kenya, where we provide 4,500 gallons of safe water per day to schoolchildren and their families via P&G purification packets. Together, we are bringing safe water, hygiene and sanitation to women, children and households in Bangladesh, Ethiopia and Kenya and to survivors of natural disasters globally.
CARE and General Mills welcomed Merck & Co. into the Join My Village (JMV) program in 2011 and expanded the program to India in 2012. With Merck's support, JMV is continuing to support education for girls who dropped out or never attended school. We created a new school that provides accelerated learning in a year-long boarding program and we are supporting government-run boarding schools for girls in Uttar Pradesh state. In addition, JMV in India is providing maternal health-related information and education for pregnant women and their families.
In partnership with USAID's Global Development Alliance, the Ford Foundation and Independent Television Service, CARE joined the Women & Girls Lead Global Alliance and received more than $700,000 to expand the impact of gender programming by using documentary films and other engagement tools to build advocacy campaigns for social change in five countries. Through this model, the partners will encourage increased public and private investment in media to promote women and girls as leaders and help shift social norms and gender roles in support of gender equality.
CARE is grateful for our nearly 20-year partnership with UPS. This year, UPS generously committed resources to our efforts in Haiti following Tropical Storm Isaac, supported the internal improvement of CARE's global humanitarian supply chain and donated significant shipping support that allowed us to pre-position supplies and respond directly to disasters around the world.
CARE launched a strategic partnership with Cornell University focused on sustainable food systems and addressing the needs of chronically-hungry women and their families. Spearheaded by Cornell's Atkinson Center for a Sustainable Future, the partnership's Impact through Innovation Fund matches Cornell researchers with CARE development professionals to deliver research-based solutions. Thanks to generous support from David and Pat Atkinson, this partnership moves beyond ad hoc collaboration to pursue a shared agenda for learning and action.

CARE teams with foundation partners to support work addressing poverty around the world.
The Bill & Melinda Gates Foundation has been a vital CARE partner since 2001, supporting programs in food security, water and sanitation, health equity, reproductive and maternal health, women's empowerment and livelihood development. The Gates Foundation supports Pathways, CARE's five-year, multi-million-dollar initiative to help women farmers in Bangladesh, Ghana, India, Malawi, Mali and Tanzania improve livelihoods and food security for themselves and their families. The foundation also supports programs in Bangladesh, Bolivia, the Horn of Africa, Indonesia and Niger to help communities prepare for emergencies. And, in India, the foundation equips CARE to team with community organizations to work with people affected by HIV and AIDS and improve the health and survival of women, newborns and children through improved family health services.
The Howard G. Buffett Foundation is a key supporter of CARE's global efforts to improve water and sanitation, economic development, food security, conservation agriculture and post-conflict recovery. Its commitment to innovation has been a decisive factor in CARE's ability to maximize the effectiveness of our programs in these areas.
The Sall Family Foundation
supports groundbreaking programs focused on conservation agriculture in Mozambique and Nepal, maternal health in Malawi and nutrition in Bangladesh, Indonesia, Nicaragua, Peru and Sierra Leone. These programs, which include support for the CARE-WWF Alliance, recognize the connections between development and conservation and are helping set the stage for future international development work.
CARE is a proud partner of the United Nations Foundation in raising awareness among U.S. policymakers about the importance of supporting global maternal health and family planning to reduce maternal and child deaths. With the foundation's support, CARE has built a constituency of advocates in 10 crucial states
and congressional districts.
The Ford Foundation works with CARE to improve human rights for women and adolescents in Egypt by supporting research to address gender issues and by working to set international protocols to reduce carbon emissions caused by deforestation.
International foundations, such as Reach Out To Asia (ROTA) and Dubai Cares — both based in the Middle East — support projects across Africa, Asia and the Middle East to ensure high-quality, accessible education for children.